02|2023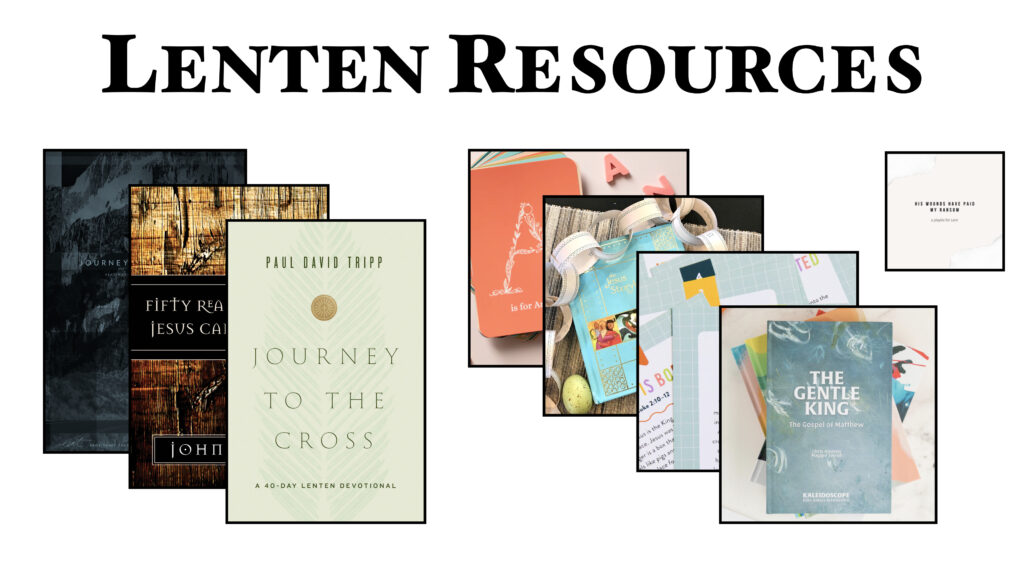 Ash Wednesday, February 22nd, marks the beginning of the season of Lent for the Church calendar. Lent is the 46 days leading up to Easter that the Church has historically set aside to intentionally prepare our hearts for celebrating the Resurrection. It is a season of "Good-Grief and Grace-Tears" as we approach the celebration that comes on Easter Sunday.
This year, we have a few different resources to encourage you!
Journey to the Cross focuses on "meditating on our sin and weakness, looking to Jesus as our perfect example and substitute, and being heightened in our worship of his victory over Satan, sin, and death." This a PDF devotional that we used last year. Whether you've been through it already or not, it's a wonderful free resource to help on your journey towards Easter, and you can download a PDF of the devotional here.
Another Journey to the Cross resources comes from Paul David Tripp, who invites us to set aside time from the busyness of our lives to focus on the suffering and sacrifice of Jesus. Each of the short readings encourages us to abide in the abundant joy found in Christ as we encounter the Savior more fully and follow him more faithfully during this Lenten season. You can pick this one up at Amazon or wherever you enjoy buying good books.
John Piper's Fifty Reasons Why Jesus Came to Die asks and explores some great questions such as: Why was Jesus Christ crucified? Why did he suffer so much? What has this to do with me? Finally, who sent him to his death? The answer to the last question is that God did. Jesus was God's Son. The suffering was unsurpassed, but the whole message of the Bible leads to this answer. Reviewing these questions and the related scriptures is a great way to meditate on the cross in the weeks leading up to Easter Sunday. You can download this PDF or pick up this one on Amazon or wherever you enjoy buying good books (and this one's been around a while, so you can probably find a used copy as well).
Also, for families and kids, check out these additional resources:
For Babies & Toddlers: From Tiny Theologians, the Easter ABC Cards help your kids understand what Easter is all about: JESUS! With simple and concise definitions on each card and Scripture references for each concept, these cards will help your family grasp the glory of Jesus' life, death, and resurrection!
For Younger and Older Preschool: From The Daily Grace Co., check out The Life of Jesus Kids Cards Set, which includes 20 cards that will help your family celebrate the life of Jesus throughout the Lenten season and beyond.  Also, from Sally Lloyd Jones, The Jesus Storybook Bible Lent Guide includes a paper chain reading plan template, along with coloring pages and reading plan calendar, with a corresponding chapter from The Jesus Storybook Bible to read each day.
As we go through the season of Lent, there will naturally be some great connections to our current sermon series on 1 Peter. If you didn't get a chance to check out the resources, you can read our previous post or catch up on listening to the series so far. Please consider joining us as we prepare our hearts for one of the most amazing celebrations of the year, Easter!

Also, check out our Lent Spotify Playlist: His Wounds Have Paid My Ransom!

Categories:: Resources