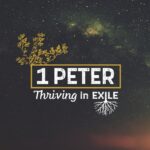 Sermon Outline:
Rejoice amidst your pain (1 Peter 4:12-13).
Be faithful in your pain (1 Peter 4:14-16).
Keep an eternal perspective on your pain (1 Peter 4:17-19).
Discussion Questions:
Why are we so caught off guard when we suffer? How will this passage prepare you for future trials?
How has God matured you through difficult situations? Share some examples to encourage those at your table. 
When do you most struggle to genuinely trust God? How does this passage (and 2 Cor. 4:17-18) help?
This is the 12th sermon of the series 1 Peter: Thriving In Exile.